Those circling Sunday Igboho's home in an effort to abduct him are wasting their time, according to him, because he is much too powerful to be tamed.
Around 9 p.m. on Saturday, Sunday Adeyemo, also known as Igboho, was invited to a live Facebook discussion by his spokesperson, Olayomi Koiki. Sunday Igboho hasn't been around in almost six weeks, and during that period, a lot of rumors have circulated about him. He's finally decided to discuss some of those issues and dispel some of the rumors.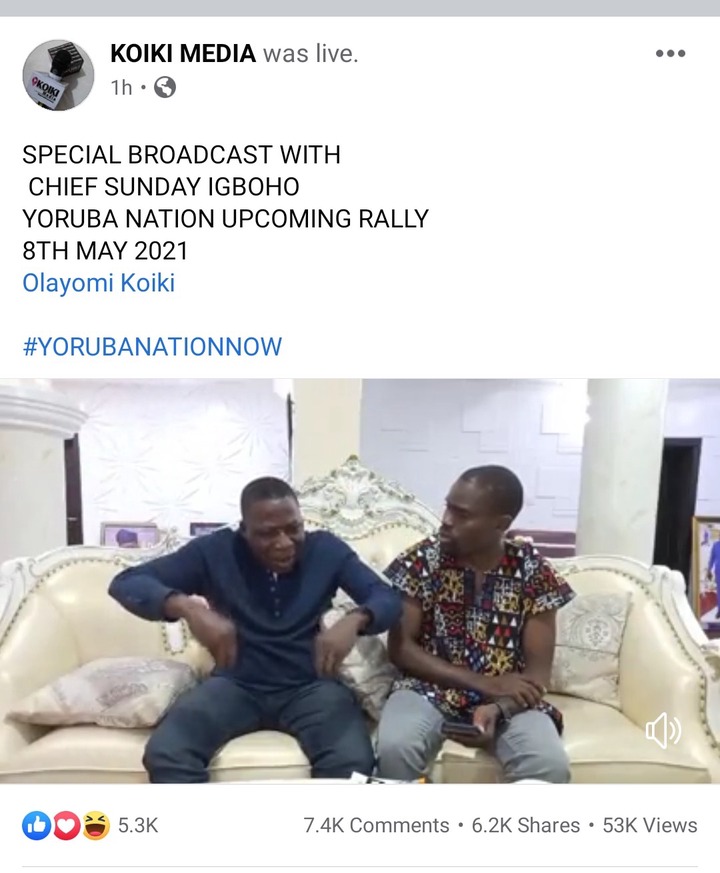 Sunday Adeyemo began by paying respects to all Yorubaland's traditional rulers. Professor Akintoye, Olusegun Obasanjo, and Gani Adams were among those honored. Sunday Igboho said that he had heard rumors such as "Sunday Igboho has gone missing" and "Sunday Igboho has run away," but that he has now debunked both of them.
Sunday Igboho claims that those circling his home in an attempt to kidnap him are wasting their time because he is much too strong to be tamed.
'The Yorubas who know what I am capable of know that I have not started fighting yet. God gave me many powers. I have the power to enter someone's house without opening the door. I have it. I inherited it from my father. I got all my powers from my Father and I have not fought anyone. What I am saying is that all Fulani should leave Yorubaland'
He added that;
'There are a lot of people (traditional rulers) supporting me. I just don't want to mention names. Look at my uncle, Fani Kayode, he is gallantly behind me! I don't care about how you people feel about him. He always supports me. He told me that I should not be afraid and whenever I get summoned to any meeting, I should call on him, he will come for me…'
Sunday Igboho says he fully trusts Femi Fani Kayode because he always stands up for him.
Sunday Igboho also addressed rumors of collecting money from Atiku Abubakar.
He says;
'Some people also said I collected money from Atiku. Atiku, come out publicly and confirm if you gave me any money. If he can't understand Yoruba, someone will interpret it for you. If I have ever seen Atiku in my life, God will judge me.

If I have ever collected money from Atiku or any politician that I refuse to talk about, God will judge me'.
However, he discloses that there are some Yoruba persons that are actually donating money to help him.
He also addresses rumors that he used gofundme to buy his luxurious cars, precisely his Prado. Sunday Igboho also debunks this claim. He said that he bought his Prado for 65 million in 2020 to celebrate December and he did not collect the money from anybody. He said he has more expensive cars apart from the Prado in his car park.
He said he has G-wagon, GLE 450, and many others. He said he also bought several brand new buses that cost 17 million each last year.
Finally, he said he is ready to personally go after the bandits to flush them out from their hideouts inside the bush. He said he will start the raid on Monday and he already has all the resources that he needs.
Sunday Igboho said there is no amount of money that can stop him from his agitation. He said he can't be killed or tamed.