Reno Omokri, ex spokesperson to former President Goodluck Ebele Jonathan,  has made a shocking revelation as to why Bola Ahmed Tinubu was absent at the commissioning of Lagos-Ibadan rail by Buhari yesterday.
According to Omokri, Tinubu's absence at the grand opening of such a gigantic project is indeed questionable. The outspoken social commentator alleged that Tinubu's absence yesterday, is because he is still sore after the president told him that he can't sit in Lagos and dictate for the All Progressive Congress (APC), party. Here is what he said, "Why was Tinubu absent at the commissioning of the Lagos-Ibadan rail? Is he still sore because Buhari said 'you can't sit in Lagos and decide for APC'? Ah ah Tinubu, are you so sensitive? Small play, you don vex!", he said.
Here is a screenshot;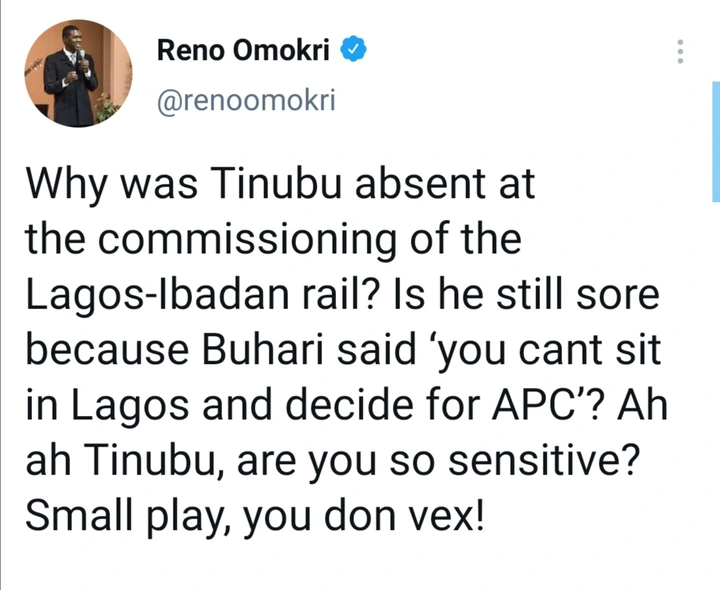 This post has so far gotten mixed reactions as many Nigerians are reacting to it. The majority thinks that Reno Omokri's revelation is unfounded. They accused him of hating on the APC-led federal government. They however advised him to leave the president alone and mind his business.
There are a few others who think differently. This category of people is of the view that Reno Omokri is right in his assertion. They however praised him for his courage.
What is your view on this?.
• Do you think that Reno Omokri is right?.