Every day in Nigeria seems to bring a new twist to the tale, which is why it is so intriguing that Mr. Abubakar Malami, the Attorney General of the Federation and Minister of Justice, told the Federal High Court in Abuja that former Vice President and aspiring President Atiku Abubakar is not a Nigerian, is very interesting.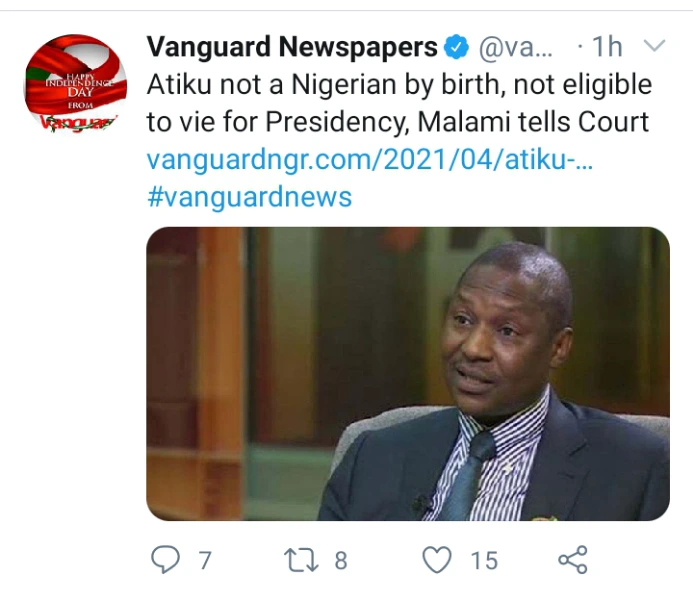 Because of the above disclosure, the minister of justice declared that Atiku does not have the right to run in any presidential election under the Nigerian Constitution. Mr. Malami backed up his assertion and allegation by saying that Atiku was born in the town of Jada, which he said was once part of northern Cameroon. Surprisingly, the town is now under Adamawa state, a state clearly recognized under Nigeria.
The Minister said that the town, Jada was finally considered a part of Nigeria through the plebiscite that took place in 1961. The minister explained that Atiku was born in 1946, a time when Jada was still a town under northern Cameroon, which means Atiku was a citizen of Cameroon.
The Minister said and I quote;
The first Defendant (Atiku) is not a fit and proper person to be a candidate for election to the office of president of the Federal Republic of Nigeria.

The first Defendant was born on the 25th of November, 1946 at Jada, at the time in Northern Cameroon. By the plebiscite of 1961, the town of Jada was incorporated into Nigeria.

The first defendant is a Nigerian by virtue of the 1961 plebiscite, but not a Nigerian by birth. The first defendant's parents died before the 1961 plebiscite.
However, Nigerians have taken their time to respond to the claim. One of the people that responded to Malami said that his claims do not really mean anything, as it does not solve the high rate of lawlessness and insecurity in the country. Another Twitter user said that Malami's revelation is one of the reasons why people outside and within Nigeria, think the country is a joke. The user further said that people from neighboring countries can easily walk through Nigeria's borders unnoticed, reside in the country for a long time, and equally become the president of the country.
The user indicated that this reason above may suggest why some of the leaders treat the country callously.
Check out more of what people said about the claims and revelation of the minister of Justice.