Following the new choice of the South East pioneers to make another security unit known as Ebubeagu Security Network, various responses have been pervading the media.
Many are actually giving thumps up to the South East Leaders, saying the decision is a welcome development that would help to reduce the security challenges that suddenly erupted in South Eastern part of Nigeria.
But there are still many critics out there criticizing the decision, saying all sorts of discouragung things.
Among these reactions, the one that got my attention was the one that revealed that Eastern Security Network (ESN) and Ebubeagu Security Network (ESN) have the same Acronym.
In his post, he wrote "is there any connection or just copy and paste, or coincidental?
Ebubeagu Security Network (ESN)
Eastern Security Network (ESN)
ESN nah ESN!!!!
#WeMove"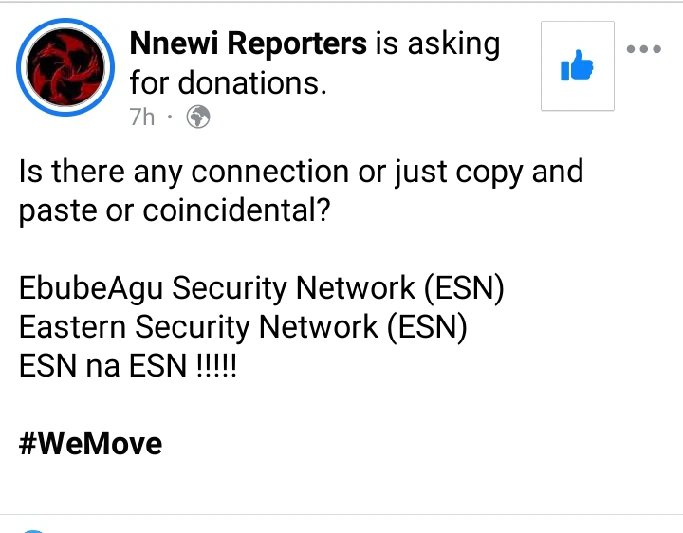 His view was that both the newly formed Ebubeagu Security Network and the Eastern Security Network can still be represented as ESN; then how can they be differentiated when written in such short form?
Also reasoning from another sentence he made, which he said "ESN nah ESN!" The literal meaning of what he said maybe that Eastern Security Network and Ebubeagu Security Network are the same no matter how they may be coated.
This may make little references to other people's reactions, that the South East Leaders would have made use of the Eastern Security Network (ESN) instead of creating another security network (Ebubeagu Security Network).
According to their claim, the South East Leaders rejected Eastern Security Network but ended up creating something similar to it.
Seriously I was amazed at discovering that both of them have the same Acronym, because my mind never lead me to think so such deep.
Then I wondered, does it mean they purposely did it such way to have the same Acronym or it was just a coincidence?
Because I think they would have made it easier to be differentiated especially when represented in short form.
What's your view on this?
Recall that yesterday, the South East Leaders met including the Governors met in Imo State in regards to the current security challenges facing the South Eastern part of Nigeria. In the course of the meeting, they later resolved to create a new security network, which they named as "Ebubeagu Security Network."