People we trust are also the ones who do terrible and frightening things to us in life. In today's post, I'll tell the story of a mother who gave her life for her child.
Alexia's story is that she is a mother of five children. Alexia recounts her experience: "It all began when I found out I was pregnant." Since we already had four children and another one was in the womb, I figured this would be good news for my husband. When I told my husband the supposed good news, I was totally wrong. My husband was angry and began complaining about the pregnancy, which was bad news to him.
My husband told me to get an abortion a few days after his laments because we weren't going to have the baby. What my husband said left me perplexed and stunned. I was afraid of taking the life of that poor soul, so I pleaded with him to have the boy, promising that we would care for him as we had the other four. My husband told me that he didn't want to hear any of the nonsense I was telling him because we were still struggling to support our four children, and adding a fifth would only make things harder.
My husband was not ashamed of his decision, and he always reminded me that taking care of the four children and the new one would be complicated enough without having to worry about their school fees. I was scared of getting an abortion because I didn't want to take another person's life, and I also knew I might die in the process. I told him that the money could be used to care for our daughter, and that killing an innocent person would be a sin for which we would be held responsible. I asked him if he believes abortion is the only option. I figured it was done when he walked away. I had no idea he was plotting anything bad against me.
My husband and I are continuing to live a regular, happy life. I later told him that I was afraid of having the abortion because I could die in the process, leaving our children without a mother to care for them. We slept soundly that night, and I was ready to go to work the next morning. Despite the fact that I was pregnant, I had to go to the construction site to bring some building materials for money because my family was in desperate need of funds. My husband normally goes out every morning to bring something home, but on that particular day, he stayed at home and it was apparent that he was planning something.
I was exhausted when I got home from work. I took a shower and went to bed because I had been working all day and wanted to relax. My husband was in the living room when I left. My husband tucked the kids in and made sure they were all sound asleep. He shut the door behind him and turned off the lights in the bed. He entered the bedroom, and I was fast asleep at the time. I was completely oblivious to what was going on. My husband got acid and poured it on me when I was sleeping. I started screaming because I felt fire all over my body, but he poured more on me with a lot of rage and even got some thrown at him.
Our children broke into the room and saw our skin falling off as we both began crying louder. We were assisted by our neighbors and transported to the nearest hospital.
They administered first aid and transported us in the same ambulance to a larger hospital. My burns were so bad that I went into a coma and didn't wake up until two months later. As my husband's wounds began to heal, he realized that my waking up could land him in prison, so he fled the hospital.
I discovered I was still pregnant when I awoke from my coma. The doctors advised me that the only way for me to live was for them to operate on me and remove the baby from my womb. I became sad and told the doctors that they should not touch my baby and that if taking the baby out of my womb is the only way for me to live, then he should stay and develop. I told them I was going to die, but that my baby would be okay.
When my due date arrived, I was in excruciating pain. The doctors operated on me, and the baby survived the operation. The doctors were taken aback when I told them that my burns had healed successfully. They said I had been in a coma for two months and that my baby had survived. This was a miracle, and they had never seen anything like it before.
Watch the video below;
https://www.youtube.com/watch?v=eEKyshRaYTg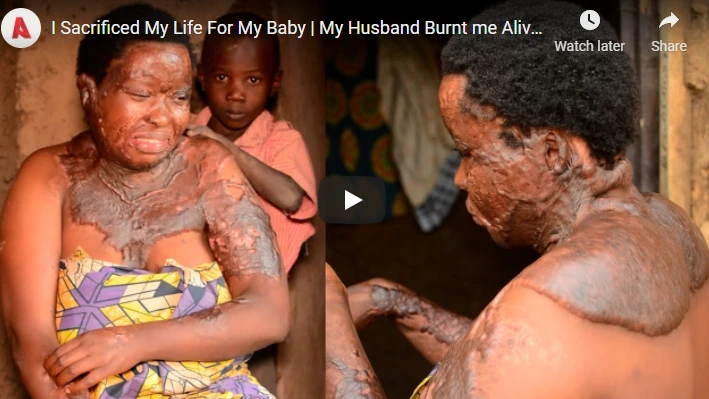 View pictures i