The cold weather in the region is prompting residents to seek out new ways to keep their homes warm, some of which are potentially harmful.
Not just in Kenya, but also in our neighboring countries such as Tanzania, the month of July has been bitterly cold.
In Tanzania's Njombe region, a man and his wife died after the way they used to keep their chamber warm turned tragic.
The fatalities, identified as Benintho Mbathi, 23, and Jazila Said, perished when they left a burning jiko overnight to keep their chamber warm, according to police commander comments to the media today.
Hamisi Izzah the Njombe region police commander told the media that the two were last seen entering the room on 17th July this year only to be found dead.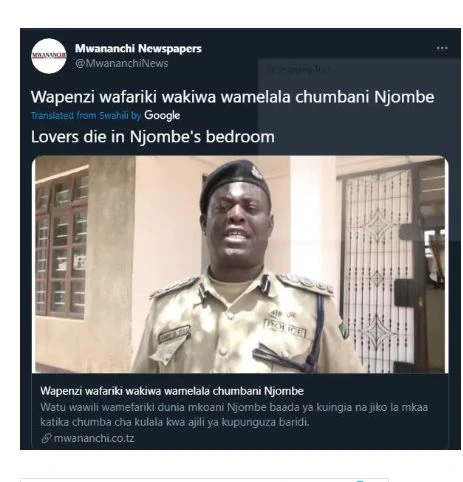 "After the incident no one knew that the couple were dead . The incident took place on 17th July at around 11:30 in the pm in the National Housing are of Njombe ward in the city were the couple were sleeping," said the police commander.
Burning charcoal produces poisonous gas called carbon dioxide which is difficult to realise because it is odourless and colourless therefore it kills slowly.